This will be the fourth year that BreastfeedLA will exhibit at the California HR Conference and will sponsor the Mother's Lounge.
You can learn more about their mother's lounge here.
Professionals in Human Resources Association are model partners, supportive of our work and helping their membership comply with the law and meet the needs of employed nursing moms.  In addition to providing a mother's lounge at their conference, they also include information on their website, and have provided webinars for their members.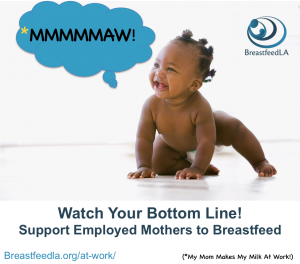 The California HR Conference is held every year at the end of August, so with National Breastfeeding Month, it's an easy fit talking to HR professionals about their obligation under the law, as well as how to best support employed mothers to continue to breastfeed.  The conference is held at the Anaheim Convention Center, which is conveniently located by Disneyland.
Each year we have solicited donation for our Mother's Lounge and raffled off pumps and gift cards.  Our sponsors are very appreciated!  Our mothers love knowing that we are there and that there is a plan and a place for pumping.
We've seen the number of participants using the Mother's Lounge increase.  Last year, however, was the first time we had Anaheim Convention Center's (ACC) staff accident redirect a participant to a family  restroom.  PIHRA, being true partners, helped resolve this issue but informing the ACC staff about their desire to appropriately accommodate mothers.  BreastfeedLA was able to provide information about other large locations with lactation accommodations and legislation, like California's new Airport Lactation Accommodation Law.
These environmental changes are critical to helping breastfeeding mothers be successful.
Here is a short list of locations with public lactation accommodation locations:
In addition to supporting the breastfeeding Human Resource professionals on site, we also have surveyed them.  Our findings from our first 2012 survey can be found here.
To support our partners, PIHRA, this year we will be creating a double sided banner, to advertise the California HR Mother's Lounge, and it will be place in the lobby.  The PIHRA staff will be trained to support their attendees, describing how to access the mother's lounge and BreastfeedLA also to provide support.
PIHRA is a great example of an organization that is supports nursing moms to breastfeed!  #Let'sMakeItWork!