BreastfeedLA's Education Membership Packages save you money!  Whether you are an individual or representing an institution, we have an option for you.
Individual Annual Education Membership Package
For just $375, you can attend all of our live seminars and webinars this calendar year*! Our webinars are recorded, so even if you miss it live, you'll still have the opportunity to watch and earn continuing education credit.  You can save over $435 with this membership AND earn the continuing education credits you need!
To purchase, click the PayPal button below.  If you'd prefer to make 3 installment payments, please email info@breastfeedla.org today for instructions!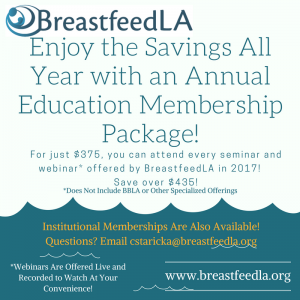 .
Institutional Membership
With an institutional membership, you get 10 registrations for just $500, a savings of over $500 !  Your institution can use them in many ways: send 1 person to 10 seminars, send 5 people to 2 seminars each – whatever works best.   When all 10 have been used, the membership can be renewed!  Please email info@breastfeedla.org if you wish to purchase an Institutional Membership Package.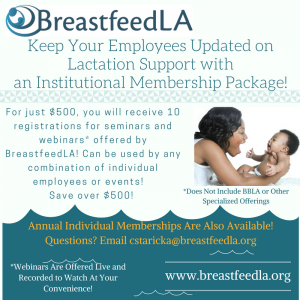 *Does not apply to BBLA or other specialized training.