BreastfeedLA's Education Membership Packages save you money!  Whether you are an individual or representing an institution, we have an option for you.  Now through Dec 31, 2017, you can purchase your 2018 package at the 2017 price!  Prices will go up slightly on Jan 1, 2018, so be sure to purchase before 2017 runs out!
Individual Annual Education Membership Package
For just $375, you can attend all of our live seminars and webinars in 2018*! Our webinars are recorded, so even if you miss it live, you'll still have the opportunity to watch and earn continuing education credit.  You can save over $435 with this membership AND earn the continuing education credits you need!
This offer is only valid through December 31, 2017!  Your purchase will entitle you to attend every seminar and webinar hosted by BreastfeedLA in 2018.
To purchase, click the PayPal button below and to select One Payment ($375 in full). 



If you would prefer to make 3 installment payments of $125 each over the next 3 months, please select the PayPal button below.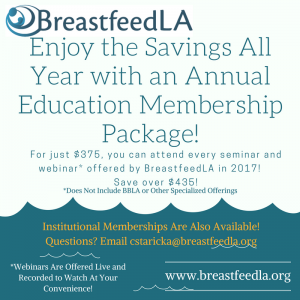 Institutional Membership
With an institutional membership, you get 10 registrations for just $500, a savings of over $500 !  Your institution can use them in many ways: send 1 person to 10 seminars, send 5 people to 2 seminars each – whatever works best.   When all 10 have been used, the membership can be renewed! This package does not expire until every registration has been used.   Please email info@breastfeedla.org if you wish to purchase an Institutional Membership Package.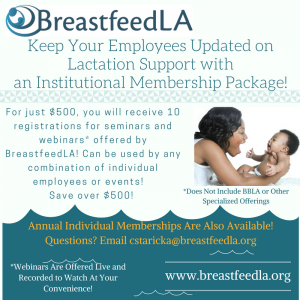 *Does not apply to BBLA or other specialized training.