Released May 13, 2019
Report Examines Infant Feeding Disparities
in Los Angeles County:
Pinpoints Significant Inequities in Breastfeeding Rates
by Race/Ethnicity, Hospital of Delivery and Other Factors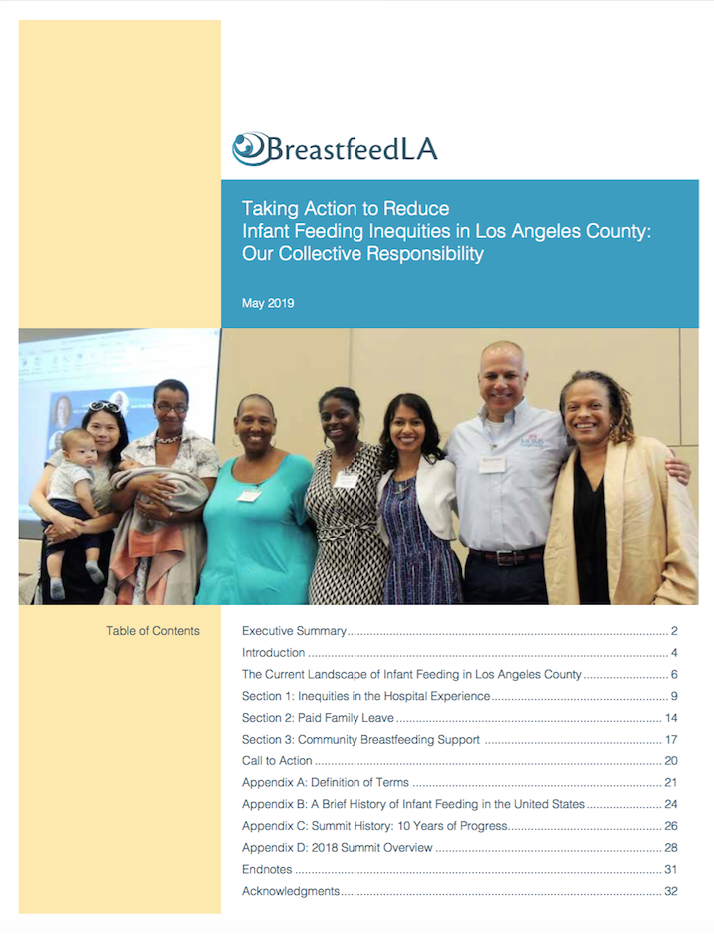 In October of 2018, BreastfeedLA organized a summit to explore new frameworks to understand and address breastfeeding inequities. In a report released today, BreastfeedLA has brought new data to light that examines the many factors that contribute to infant feeding disparities in LA County.
Nakeisha Robinson, equity summit co-chair says that a "crucial element for unpacking the multilayered factors impacting infant feeding disparities was the involvement of a diverse planning committee at the decision-making level. The executive committee consisted of mixed race/ethnicity, interprofessional, and gender-inclusive members to ensure the report delved into culturally relevant inclusive issues and addressed long-standing historical systemic barriers for not only parents and infants, but also lactation and public health professionals in LA County."
Addressing infant feeding disparities is an important focus for BreastfeedLA due to stark racial disparities in infant mortality for Black infants in LA County, who are 3 times more likely to die in the first year of life than white infants. Breastfeeding is an important strategy to lower infant mortality rates. The report found that the areas of LA County with the highest rates of infant mortality also have the lowest rates of exclusive breastfeeding at 3 months, the fewest lactation support resources and the highest number of households with annual incomes between $12,813 and $41,400.
Melisa Acoba, equity summit co-chair, says that "the summit enabled us to acquire a new language to understand and communicate the ways that systemic racism affects breastfeeding rates. By naming the problem, we can begin to heal and build trust between patients and providers."
Data from the report indicates that in almost every birthing hospital in LA County, infants of color are less likely than white infants to be exclusively breastfed at hospital discharge. Additionally, there are several hospitals in LA County that were Baby-Friendly in 2016 and were no longer Baby-Friendly in 2017. All of those hospitals saw decreases in breastfeeding rates in 2017, and decreases were larger for infants of color.  The Baby-Friendly Hospital Initiative (BFHI) was launched by WHO and UNICEF in 1991. The initiative has measurable and proven impact, increasing the likelihood of babies being exclusively breastfed for the first six months.  A new paper published in Pediatrics links successful implementation of Baby-Friendly practices in the southern U.S. with increases in breastfeeding rates and improved, evidence-based care. The changes were especially positive for African-American women.
The report explores disparities in awareness of paid family leave by race/ethnicity, income and education level, and highlights access to paid family leave as an important source of support for the health of all parents.
The report includes results from a BreastfeedLA survey of lactation professionals that found that lactation professionals of color are underrepresented in the lactation workforce. This survey also found that while 11% of LA County residents speak an Asian or Pacific Islander language, less than 4.5% of survey respondents spoke one of these languages.
BreastfeedLA's report includes recommendations for hospitals as well as organizations that work with pregnant people and new parents.
"BreastfeedLA's work is grounded in diversity, inclusion, and equity to facilitate our mission of commitment to protecting, promoting, and supporting breastfeeding in the communities we serve," says Arissa Palmer, executive director of BreastfeedLA, "We are committed to partnering with community stakeholders, advocates, and parents to close the breastfeeding disparities gap so that all individuals who want to breastfeed can have the support they need to accomplish their breastfeeding goals."