#WBW15 "Let's Make It Work" Tools
June 30th, 2015
World Breastfeeding Week is always August 1-7.
August is National Breastfeeding Month.
WABA (World Alliance for Breastfeeding Action) is the sponsor of the World Breastfeeding Week (WBW) campaign. The 2015 theme is "Let's Make It Work", focusing on the employed mother's rights to lactation accommodations in the workplace.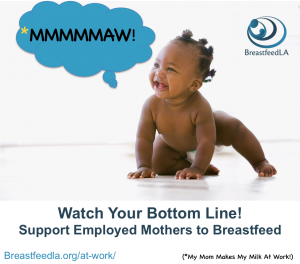 The WBW 2015 campaign aims to empower and support ALL women, working in both the formal and informal sectors, to adequately combine work with child-rearing, particularly breastfeeding. WABA defines work in its broadest form from paid employment, self-employment, seasonal and contract work to unpaid home and care work.
Join us in celebrating #WBW15 and use these sample posts!
Twitter
We're joining @CaliforniaBreastfeeding and @BreastfeedLA to support #WBW15! #LetsMakeItWork
Moms Make Milk At Work! Support #WBW15 by supporting nursing moms at work. Learn how http://tinyurl.com/qyqglu6 #LetsMakeItWork
California laws protect nursing moms at work and in public! Support #WBW15 http://tinyurl.com/qyqglu6 #LetsMakeItWork
California's #PaidFamilyLeave doubled the median duration of breastfeeding, even among low wage employees. #LetsMakeItWork #Californiamakesitwork #WBW15
California laws increase the odds of breastfeeding! #LetsMakeItWork #WBW15
California enforcement of pumping laws increased the odds of breastfeeding by 225%! #Whoknew? #LetsMakeItWork File Complaints at http://tinyurl.com/k74uchq
#Breastfeeding is easier with #PaidFamilyLeave. It's time for the #FamilyACT http://tinyurl.com/o8nx5jz #LetsMakeItWork #WBW15
Facebook
California moms are making milk at work! Support them by learning how to accommodate them. Join @CaliforniaBreastfeedingCoaltion and @BreastfeedLA. Share "Supporting Nursing Moms At Work: Employer Solutions" with your employer. http://tinyurl.com/qyqglu6 #WBW15 #LetsMakeItWork
Are you making milk at work, but your employer isn't providing you with a private space and/or break time? You can file a complaint with the California Bureau of Field of Enforcement. http://tinyurl.com/qyqglu6 #ItsYourRight! #WBW15 #LetsMakeItWork 
Nursing Employed Moms – don't let your employer retaliated or discriminated. It's your right! Ask for a private space and/or break time to make milk at work for your baby! California laws protect you! File a complaint with the Division of Labor Standards Enforcement. http://tinyurl.com/pu62erm #WBW15 #LetsMakeItWork #ItsYourRight
Sample Website Copy
We're joining BreastfeedLA.org to celebrate the 2015 World Breastfeeding Week "Let's Make It Work" campaign by celebrating California's progressive laws that protect a mother's right to breastfeeding accommodations! Did you know that the odds of a baby being breastfed are 225% greater in California because of our public policy? Support for nursing moms at work doesn't have to be hard. Learn how at: http://tinyurl.com/qyqglu6
Press Release – Coming Soon
Proclamations!
Updated as of June 30, 2015
California Department of Public Health

New In-Hospital Breastfeeding Data.
Healthcare

The Regional Hospital Breastfeeding Consortium (RHBC) meetings to provide ongoing support and guidance for staff from participating hospitals. Learn more
LA Convention Center-Breastfeeding Friendly!