WBW15 – "Let's Make It Work!"
May 19th, 2015
BreastfeedLA is proud to participate in World Breastfeeding Week 2015 by advocating for employed mothers to breastfeed.  Through our Breastfeeding Works program, BreastfeedLA advocates for better enforcement of California lactation accommodation laws, provides technical assistance to employers on how to best to accommodate employees and supports mothers as they navigate their rights in the workplace.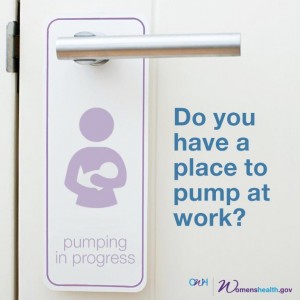 Did you know that California has the strongest legal protections for breastfeeding women?
The impact of these laws have huge implications!
This research found that the odds of a baby born in California being breastfed was 225% greater because of our enforcement provisions for our lactation accommodation law.  The odds of the baby being breastfed at 6 months was 102% greater than other states without enforcement for lactation accommodation laws.
California state laws actually help mothers to breastfeed longer!
In fact, California is one of only 5 states that have both paid disability insurance and paid family leave – allowing most pregnant mothers and their spouses some time to recover from childbirth and breastfeed their baby.  California's Paid Family Leave law was found to double the median duration of breastfeeding, even among low-wage employees.
BreastfeedLA's workplace support includes helping the County of Los Angeles, the City of Los Angeles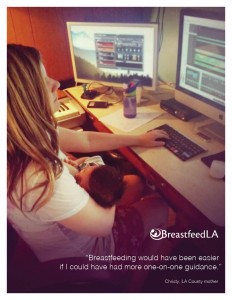 and the Kaiser Permanente Southern California region adopt and implement systems-wide lactation accommodation policy and program.
This year, BreastfeedLA will be conducting a special survey of the County of Los Angeles' lactation accommodation program implementation, offering 10, $10 Starbucks cards to the departments with the most innovative implementation of lactation accommodations.
In addition, we will be publishing a report on lactation accommodations in school districts (81 districts,) an evaluation of policy in hospitals (57 birthing hospitals, 88 hospitals in total) and our cities (88 incorporated cities in Los Angeles County!)
How can we help you support mothers in your community?
Tell us how you plan to celebrate WBW15 by supporting employed mothers!
Email us today!
Find more resources for supporting employed mothers to breastfeed here.
California Department of Public Health

New In-Hospital Breastfeeding Data.
Healthcare

The Regional Hospital Breastfeeding Consortium (RHBC) meetings to provide ongoing support and guidance for staff from participating hospitals. Learn more
LA Convention Center-Breastfeeding Friendly!